Like any good librarian, my ears are piqued when I overhear discussions about libraries. I love serendipitous encounters like these. Yesterday I was invited to sit in on a symposium sponsored by my university's humanities center. It was entitled "Space and Place in City and Suburb." Beforehand, we read two articles (full citations at end): one involving gentrification in Brooklyn (paywall) as analyzed through storefront signs and one article on "placemaking" in Gary, Indiana.
We discussed how your home is considered your first place, work is your second place, but that most of us happen to have third places too–a place where we like to hang out; a place that (ideally) feels welcoming. At my table we shared our third places. I don't want to get too specific to protect people's privacy, but in general, people mentioned places like coffee shops, restaurants, gyms, parks, or places from childhood.
Now here is where libraries come into play. Almost every table of students (unprompted by me, mind you) mentioned libraries as a third place. Keeping my emotions in check, this was my "inside" demeanor: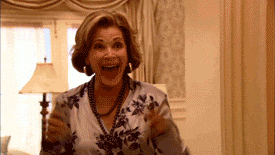 Librarians have been talking about libraries as a third place for awhile, but it was nice to see it reflected in a wider audience.
I tend to avoid over-simplification of generations, but millennials are more likely to use a public library compared to other generations. I recognize that many of the college students now fall into the Gen Z category, but I think similarities can still be drawn.
We discussed how places can be welcoming (or not) and the subtle messages – positive and negative – that exist just beyond a first glance. Questions to ask: Who are these places intended for? Are these places there for people who have existed in the community for a long time? Or are these places trying to attract a different clientele? It had me thinking more about libraries.
Who uses your library? 
Who is your library's marketing and outreach efforts geared towards? – Are public libraries catering kids' story times to upper middle class parents with disposable income? — Who does that leave out? Is it reaching the children who might need it the most? And what stories are you using–are they diverse?
How would you describe your library's physical space? Do you have to keep library restrooms locked because of drug use? — What message is that sending? Do you have comfortable seating? — Might that cause people to linger–is that good or bad? Can someone in a wheelchair or pushing a stroller gain easy access to the building and down aisles? What does that tell folks in those situations?
What policies do you have that may impede library use? — fines, food/drinks in the library, no sleeping. How does this impact the use of the space?
How has the lack of investment and resources in other government services impacted libraries? – Are we social workers, tax preparers, drug counselors, mental health professionals, and career advisers–in addition to being a librarian? There seems to be an expectation that libraries need to be everything to everybody, and that has both positive and negative aspects.
I also thought about my recent tours of libraries in the Seattle area and the use of "kindness audits" at libraries I have worked at. For me, a comfortable and inviting third space is open and airy, with natural light. I also want to be able to move around from spaces to collaborate, to those that offer more privacy. Sometimes I need to concentrate and focus, but at other times I like to daydream. A library generally fits the bill for my needs.
Below are a few recommended readings on libraries as third place.
Links
Articles